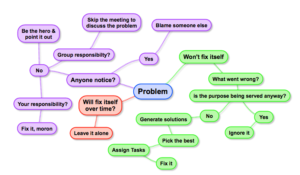 This workshop explores what research shows are the most effective tools and strategies for problem solving. We begin by focusing inward and progressively looking outward to structural and relationships issues in an effort to identify core challenges and how to address them over the long term — or resolve them for good. Key ideas explored in problem solving:
Clarifying the desired outcome(s), problem and shared interests.
Turning toward rather than away from problems.
Reframing problems into challenges and why it's effective.
The roots of the "problem".
The role of feelings in defining challenges and outcomes.
Overview of various problem-solving processes & tools.
Enhancing creativity.
The impact of diversity.
Transforming mistakes.
Gathering and categorizing information into facts, feelings and opinions.
Generating and evaluating options.
Decision making processes.