Events
Toronto 2017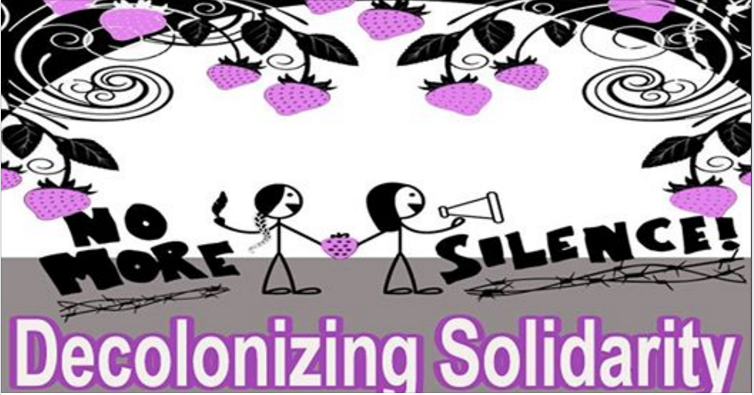 Saturday, May 27 at 1 PM – 3:30 PM
Native Canadian Centre of Toronto, 16 Spadina Rd.
Hosted by No More Silence
Conversations with Leanne Simpson, Zainab Amadahy, Chanelle Gallant and special guest, Kerieva McCormick (Glasgow based Romani activist).
Panel recording here.
Panel from the event (19:30 minutes into the video)
Link to the video screened at the event here.
***
MIXED Art Conference 2017
Saturday, 3 June 2017 from 8:30 AM to 4:30 PM (EDT) Toronto, ON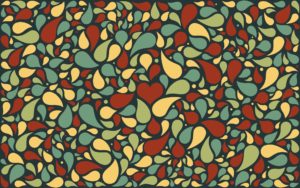 MIXED is a multidisciplinary art conference that provides a space to share our experiences around racialized mixed-race identities through art, discussion and community building.
The 2017 conference theme is "Activism: Within and Without the Family", featuring Sharon Chang, author of Raising Mixed Race! We'd love to hear your stories of resistance and resilience regarding the generational impact of: the 60s scoop, Japanese internment, Chinese head tax, anti-Black racism, etc; as well as how you cope with prejudice within the biological or transracially adoptive family, or even forging a community-based family.
More info here.  Facebook page.
Suggested donation: $20. Tickets are Pay What You Can (PWYC). MIXED is a 100% volunteer run community group and we need the support of folks like you! Your contribution will be used to rent the venue, ensure accessibility, and provide stipends for the artists and facilitators. Every dollar counts and no contribution is too small.
***
Want to be on my mailing list to receive advance notice of workshops and special offers?  Just email me.
***
The Stuck Stops Here

postponed until further notice – Toronto
Do you feel like you've been spinning your wheels in place for a while? Want to move to the next level but not sure how to get there? Unable to take time away from your routine to carve out a new path? Feelings of stuckness can be very frustrating. They can lead to a sense of unworthiness, confusion and anxiety. The physical, mental, emotional and spiritual exercises in this workshop will help you identify why you're stuck and how to move forward in your own unique way. Everyone feels stuck from time to time. The tools you  learn here will be useful for the rest of your life.
Pay What You Want. Suggested donation $30. To register please contact me.
  ***
*   All workshops are LBGTQ friendly, scent free and wheelchair accessible.
 * Full or partial payment due in advance. (Knowing the number of attendees in advance helps me prepare the space and resources.)  
Contact me to arrange for payment or more information.
I am  available to speak for  keynotes, panels, lunch-n-learns, podcasts, interviews, conferences and customized workshops on:
Art as Medicine
Wellness Benefits of Cultivating Relationships With Ancestors
Ancestral Accountability for Relationship Building & Solidarity
Relationship Building Across Difference
Emerging Science that Promotes Social Justice
Literary Futurism as Prophecy
Stress & Resiliency
Assertive Communication Skills
Conflict Transformation
Prevent & Heal from Microaggressions
Art, Science & Spirit of Planning for Achievement
Getting UnStuck when You Feel Immobilized
Healing Rage
Boost Your Creativity & Problem Solving
***
Past Events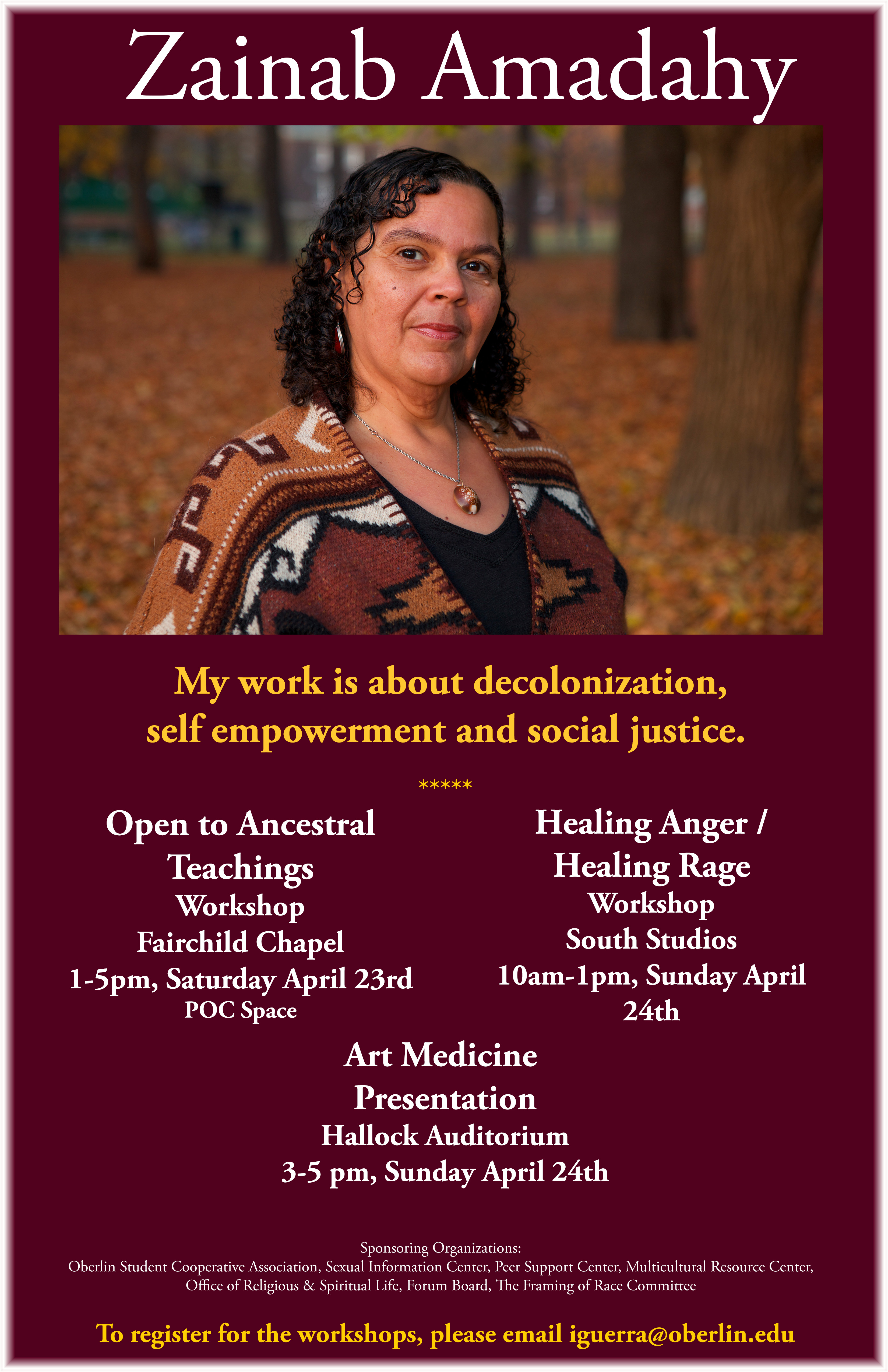 Open to Ancestral Teachings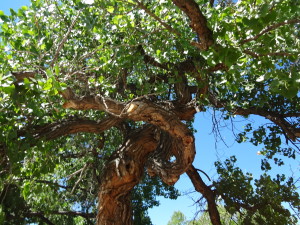 1-5pm, Saturday April 23 @ Oberlin College, Ohio, FREE
Do you have a question for an ancestor? Do you feel an ancestor has something to tell you? Do you want to heal from inherited trauma? It is now recognized as scientific fact that our genes have been impacted by the emotional and social experiences of those who came before.
This workshop will help you connect with an ancestor (however you understand that) to pursue a specific intention. In the process you will learn body-centred practices that you can continue using to strengthen a relationship with your chosen ancestor and/or contact other ancestors.
Pre registration is required in order to facilitate your preparation. Registration cut off Thursday 5pm. Preparation instructions (to be sent out each participant after registration).  For more info contact Zainab.
***
Heal Your Rage for a Better World – Workshop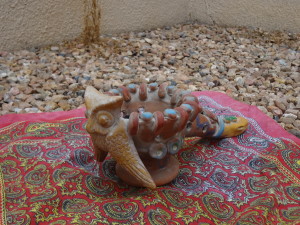 Fire holder
10am-1pm, Sunday April 24 @ Oberlin College, Ohio, FREE
Do you believe that anger fuels your artistic, activist or community work? Do you spend too much of your day angry? Do you get triggered into rage easily?
Anger, rage and many other emotions are understandable, logical and useful reactions to the injustices we see and experience in the world. However, anger is also a contractive emotion that inhibits mental capacities like problem solving and creativity. As emerging science reveals, anger cannot be compartmentalized. It impacts all facets of your life and spills over into the biofields of those around you. Studies increasingly show that prolonged and frequent anger can be detrimental to your health, relationships and community empowerment. Why surrender your wellness, loved ones and aspirations of a better world to whoever or whatever provokes your rage?
Learn healthy ways to process your anger in order to expand your mental and physical capacities. In this workshop you will experience practices and build skills that: 1) explore the gifts of anger, 2) build awareness of the damage chronic anger can cause to your wellness, 3) skillfully manage your anger when triggered, 4) transform anger into an expansive state that facilitates your aspirations and physical wellbeing and 5) cultivate sustained states of expansion and inner peace that (measurably) radiate into the world.
***
Art Medicine Presentation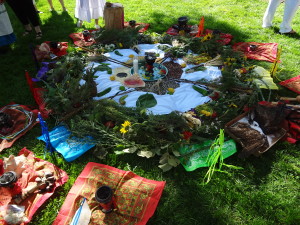 3-5 pm, Sunday April 24 @ Oberlin College, Ohio, FREE 
This presentation will explore how appreciating, participating in or creating art can impact your wellness in measurable ways. Across the disciplines (visual, music, dance, literature, etc.) art interacts with your body, mind and emotions. It will also interact with your light body or "biofield" – a word research scientists have coined to describe the energy field that surrounds human bodies. From the expressive to the transformative to the sacred, Zainab shares how art is measurably medicinal for individuals AND communities.
***
Sacred Art Medicine: Workshop Description

Part of Mayworks Festival of Working People and the Arts – Toronto
Noon, May 7 @ Friends House, 60 Lowther St.
In mainstream society art is considered a commodity to be bought, sold and owned. It's seen as nonessential recreation or entertainment. In the context of human history, this is a relatively new and absurd idea. Across many cultures, artistic practices were (and are) considered essential to growing self-knowledge, supporting wellness, maintaining healthy relationships, ensuring sustainability and deriving meaning from life. This participatory workshop explores art across disciplines through the lens of ancient wisdom and looks at the many ways sacred art is crucial to our existence. Through symbols, mantras, chants, songs, spoken word, rhythms, and so on, participants will get to experience how art creates us.
$10/PWYC
***
Your Life on Purpose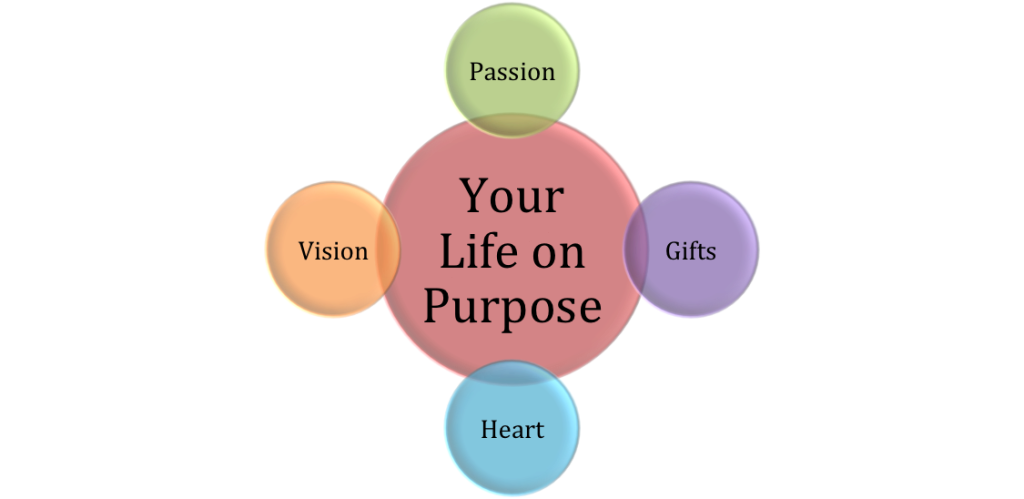 2-5pm, Sunday February 26, 2017, Toronto
This workshop will provide you with exercises and resources to enable you to connect to your inner spirit and allow your life purpose to emerge. In this process you explore your passions, take inventory of your unique gifts, listen to the call of your heart and craft a vision of your ideal life. Affirm your intuition, test out ideas, and dream without limits until your excitement cannot be contained.
***

6-8pm, Thursday March 2, 371 Bloor St. West, Toronto
A panel on racism, colonialism, and Islamophobia from the perspectives of Indigenous and Muslim folks, and to discuss how we can build solidarity between Muslim and Indigenous communities. Their will be opportunities for the audience to ask questions, and for everyone to connect more casually after the panel.
Panelists: Sarain Fox, Ausma Malik, Nasma Ahmed and Zainab Amadahy
Presented by: Canadian Roots Exchange – Échanges Racines Canadiennes is a national not-for-profit organization committed to building bridges between Indigenous and non-Indigenous young people.  More info here.
***
Plant Spirit Medicine: Make Your Own Mojo Bag

2-5pm, March 12, 2017, Toronto
Make your own mojo bag while participating in a facilitated sharing of how we can access plant spirit medicine. Plant spirit medicine works on the spiritual/energetic level and is a considered a wellness tool by Indigenous and wisdom traditions all over the world.
While every wisdom tradition is different, a medicine/mojo bag can be used to call on plant spirits to strengthen your intention, offer advice, facilitate dreaming or journeying, lift the spiritual vibration in a space, empower other forms of medicine, provide aromatherapy, help you relax in the bath and assist you in focusing your attention for meditation. There are a diversity of practices around creating a medicine/mojo bag. You are invited to share your knowledge and experience, ask questions, and indulge your own intuition and creativity.
***
Art, Science & Spirit of Planning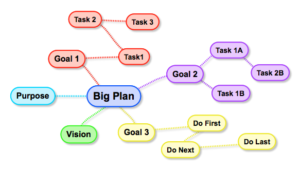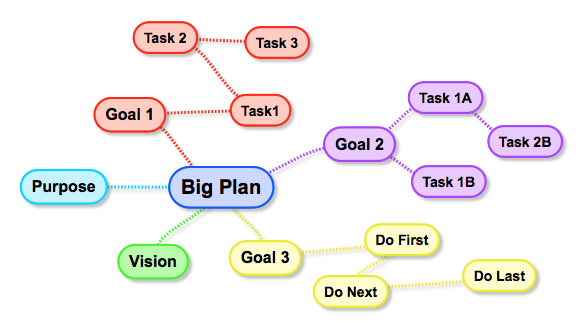 2-5pm, Sunday April 9, 2017
Do plans feel confining? Do you know where to begin? Does planning feel overwhelming? This workshop will allow you break through your planning drama and trauma. In this session you will be introduced to some nonlinear creative planning tools, discuss research into the best ways of ensuring the outcomes you want, and give you an opportunity to experience rituals and practices aimed at aligning your spirit with your aspirations. Planning doesn't have to stress you out. It can be light, relaxing and fun.